Behind the Seams: Our Premier Collection Reveal!
Hey y'all, 

Diana here, your fellow petite friend. First of all, a big thank you for coming along on my journey to bring Unseam the Label to the world. It's been a crazy ride filled with endless ideas-turned-sketches, matcha-induced late nights and mood boards with fabric, colors, and prints... but I couldn't be more proud of where we ended up. And I'm so excited for YOU to see!

As we swing into full-blown launch mode, I wanted to provide you guys with some super cool updates on where things are and where we're going with this brand.
What We've Been Doin'
Back before I started developing my very own sustainable fashion line for petite women, I conducted a market research survey this past summer to see the odds I was up against.

We found what we expected to find: You guys hate spending the additional money to alter clothes that are too long for you. Who would've thought, right? Groundbreaking.

In the words of legend Tim Gun, we had to make it work - so we did.

To combat the familiar annoyance of buying cute clothes only to find them too large or disproportionate, we knew we had to launch our premier collection focusing on the biggest offenders (which we're revealing here in 3....2...1):
Paper-bag waist pants, a maxi dress, and a sleeveless jumpsuit!
And girl, do we have a few tricks up our sleeves.

We're making a paperbag waist pant you can actually wear by giving it an ankle crop to help elongate your legs.

Maxi dresses? For a petite woman? Better believe it. We're including a slit to elongate the legs but not too high so that it's still appropriate for work. The monochrome fabric will help to give the illusion of looking taller. Our maxi is EVERYTHING.

Speaking of goin' up, our sleeveless jumpsuit will also be monochrome in color and have an ankle crop. We'll be creating these with petite proportions (as we are with the other two) so strap and torso length, armhole positioning, as well as pant rise and length will all be considered in order to create the best fitting staples. #ajumpsuitthatfinallyfits

Sustainability. But Make It Fashion.
We're creating and launching these three effortless styles with important elements in mind: sustainable fabrics/materials and quality, fit and proportions for petites, and ease of washing and care...all so you don't have to think too hard about getting dressed in the morning. It's hard enough, isn't it?

After months of researching and comparing eco-friendly fabrics and their impact on the environment, reaching out to multiple suppliers with sustainable fabrics and materials, and attending three textile shows in LA, SF, and NYC, we're excited to share that we've wrapped up our sourcing and finalized the materials and fabrics we'll be using for our premier collection!


Here's a little sneak peek of some of the materials and colors we'll be using, including Tencel Lyocell twill fabric for the pants and jumpsuit (I actually wrote a blog post on Tencel and why it's the OG sustainable fabric if you care to learn more), and Lenzing micro-modal fabric for the maxi dress.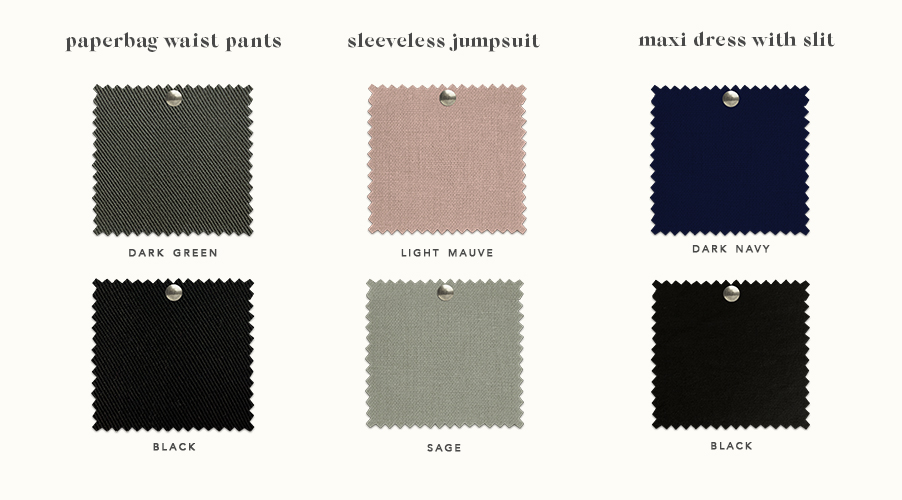 The Lenzing micro-modal which will be used for our maxi dress is buttery soft and sourced from sustainably harvested beechwood trees. Money might not grow on trees, but at least our maxis do. Close second.

We're now getting to work on technical patterns for these pieces with our patternmaker. Woot woot!

That's all the updates I have to share, for now, stick around because there is so much in the works. Be sure to check back here to follow along and stay in the know of all Unspun Narrative news.

And, while we are getting things ready for you...we need to hear what you want most. After all, we're creating this collection for you!

So...if you are a conscious, petite woman, let us know what you can see yourself wearing (and not wearing), the colors you like, and what other style elements you may want to see in future iterations of each item. Are you looking for pockets? Belts to accentuate the waist? Please let us know, as ultimately we're designing this collection for you, my petite friend.  You can email us at hello@unseamthelabel.com or DM us on Instagram at @unseamthelabel.

Cheers,
Diana
---