Behind the Seams: Belts, Pockets, & Style Samples - Oh My!
Hey now ladies - Remember when we revealed what we're creating for our premier collection and shared why we opted for 3D prototyping? To recap (since it's been a while that we've shared our collection development progress), we asked what style elements you were dying to see so we can incorporate the biggest requests into the styles themselves. Let's take a look. 
On the Topic of Pockets 
We heard back from so many of you that pockets were a must. And honestly, we couldn't agree more. We'll most definitely have front pockets on our classic paperbag waist pants, AND front/back pockets on our sleeveless jumpsuit. Because where else would you stash your lipstick on the go? 


Belt It Out, Girl 
Three words that will change your life: Belts. Accentuate. Waistlines. Both our pants and jumpsuit come with a belt as well. The tie-belt is built into our pant waistband for easy accenture, and the jumpsuit tie-belt is completely removable. It's time to do away with awkward-looking belt loops, once and for all.

Now, back to our regularly scheduled programming.

Partnering with the right sample-making team.
Let me first preface that, whereas a pattern-maker creates the technical template that pieces all the various parts of a garment together, a clothing sample-maker then uses the technical pattern to cut, assemble, and sew the garment prototype. The sample-maker often helps to pinpoint any problems before the garment goes into production. 

But sometimes, you have to search far and wide before finding the right sample-maker and team to partner with.

At the beginning of my sample creation journey, I learned that the first sample maker I worked with didn't use the optimal sewing equipment (she used a sewing machine more commonly for woven fabrics rather than for knits) on one of the first-ever samples made for a knit jersey style. This was shocking to me, since they work with some well-known brands! I also found loose threads and seam snips where there shouldn't be. Obviously that's a big no-no in the eyes of the fashion industry, let alone me. 

Because I wanted to ensure that I provide well-constructed garments for all you petite queens in our community, I vetted and worked with multiple sample-makers before I finally landed one who really saw and delivered on my vision to create high-quality, durable pieces for the premier collection and beyond. I wasn't about to settle on the caliber of work that was provided, so I continued on my hunt. Countless sample-makers later, I found one who I was able to trust to produce amazing pieces that'll last through the years (just wait until you see the final pieces!).

Bottom line: It's imperative to find partners who see and share the same vision as you do, especially when it comes to producing sustainably.
Ensuring Fit, Quality, & Style.
Finding the right sample-making team is half the battle, I soon came to realize. Once I started working on the style samples with the new sample-maker, we conducted fit tests on each garment to ensure fit, quality, durability, comfort and overall look. We ended up back at the drawing board from time to time and adjusted some of the initial patterns to perfect the look. 

For example, initially, we had created the jumpsuit and paperbag waist pant styles with one main fabric in mind but quickly noticed that the pocket linings would show through (medium weight fabric on medium weight fabric will do that to you.) We didn't want to compromise on style, so we ended up sourcing and finding a GRS-certified 100% recycled polyester lining (aka eco taffeta) that would reduce the pocket lining from showing, to achieve an overall cleaner look for the pants and jumpsuit. 

I'd be willing to do this whole process over again if it meant achieving the collection that's perfect for you! 

The final word? Each style headed towards production is a result of the fabulous communication and collaboration with our amazing apparel developers (and, you know, a little elbow grease). 
Now on to the sneak peek.
Some of you who've been keeping up-to-date with these updates may remember this sketch I shared of the paperbag waist pant style from a while back....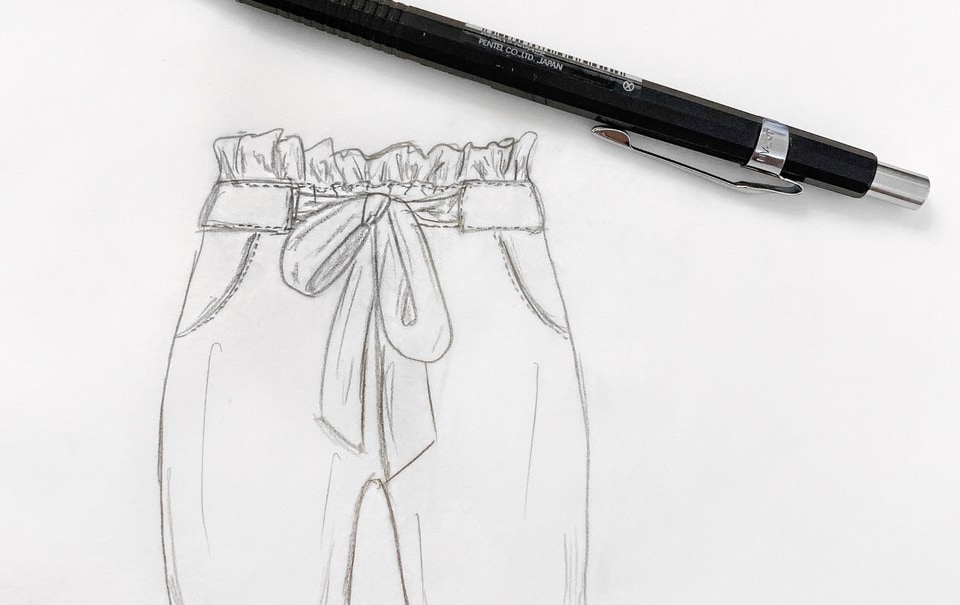 That sketch had turned into this 3d prototype (which was featured in this post)...

Which came to life in the form of one of our paperbag waist pant samples. ;) 



We're so close to finalizing this collection, and can't wait to make them available to you! 

To collaborating and creating well-constructed garments,
Diana

P.S. - As you can see, I love implementing your ideas into our lines, because, well, they are for you. DM us on Instagram to share your thoughts with me!
---